1. and 2nd Advent weekend Friday/Saturday/Sunday
Festive atmosphere and handmade products
The inclusive Christmas market, which was successfully launched last year, will take place on Josef-Görres-Platz this year. Organized by the association "Der Kreis, Club Behinderter und ihrer Freunde e. V.", workshops for the disabled in the region will be presenting themselves on the 1st and 2nd weekend of Advent between 12 noon and 8 pm.
the Görresplatz
Since 2017, the youngest of the 7 Christmas market squares has also been part of the action. Surrounded by festively illuminated buildings, an idyllic little Christmas village is created at Görresplatz. Things are a little more cozy here, which is why the square is particularly popular with families with small children. A small train makes its tranquil rounds through the Christmas forest around the historical column. In addition to confectionery, exquisite culinary products, wines from the region and woolen, decorative and olive wood items, visitors can also find the finest mulled wine from winegrowers at Görresplatz. In the cozy, heated seating huts on site, you can spend relaxing hours even in wintry temperatures. Görresplatz also hosts the sounding Advent calendar every evening from the beginning of December. Various choirs entertain the audience with Christmas songs. On the 1st & 2nd weekend of Advent, the inclusive Christmas market also opens its doors at Görresplatz. On these days, several Christmas stalls will be selling Advent items, handicrafts and handmade products from workshops for the disabled.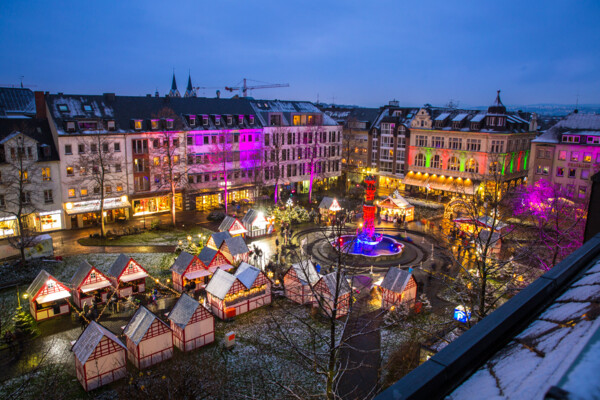 Information for people with disabilities
Barrier-free toilets
During your visit to the Koblenz Christmas Market, barrier-free toilets are available at the following locations:
Zentralplatz (in the Forum Mittelrhein)
open Monday-Saturday from 10:00 to 20:00
Zentralplatz (at Forum Confluentes)
open daily from 09:00 to 19:00
Am Plan (passageway to Liebfrauenkirche)
open daily from 08:00 to 20:00
Barrier-free accessibility of the Christmas market sites
The Koblenz Christmas Market has been in close contact with the city's representative for the disabled for many years. A joint inspection of all market participants takes place every year. Suggestions for improvement are always implemented to the best of our ability.
Most of the snack bars and food outlets offer tables suitable for the disabled, usually equipped with a bell. Barrier-free access to the market places is signposted.
Due to the historical Altstadt it is hardly possible to make the Christmas market fully accessible. We are working on getting a little better every year and reducing the number of barriers further and further.