PRogram

18.11.22 - 08.01.23
For 7 weeks, the Koblenz Old Town is transformed into a wintery sea of Christmas lights. Opening Hours
Christmas Garden
The Ehrenbreitstein Fortress shows off a special light and sound experience.
Learn More
Advent Calender
Great prizes daily! It's worth participating!
Play & Win!
Download the program/city map as a PDF (German)
Program highlights
City Tour "Weihnachtliche Altstadtführung"
On this special guided tour, you not only gain insights into the exciting history of the city, but also learn Christmas anecdotes before rounding off the tour with a mulled wine.
See Tours (German)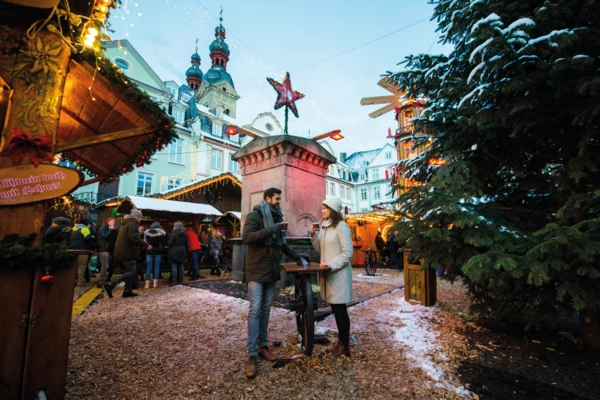 The First inclusive Christmas Market
The inclusive Christmas market will take place on the 3rd and 4th Advent weekend (Saturday and Sunday, 12 to 8 pm). It is organised by "
Der Kreis, Club Behinderter und ihrer Freunde e. V." in the courtyard and beer garden of the Weindorf. Workshops for the disabled offer a selection of handmade products. There will also be culinary delights and hot drinks for a cosy get-together.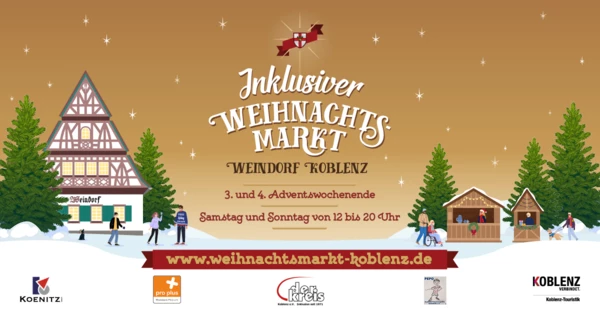 Ringing Advent Calender 
The musical highlight is the Ringing Advent Calendar, which invites you to hear festive sounds from choirs from Koblenz and the surrounding area in the inner courtyard of the town hall. The musical Advent calendar is organised by the district choir association. The participating choirs and the dates will be announced soon. 
Download program flyer as a PDF (German)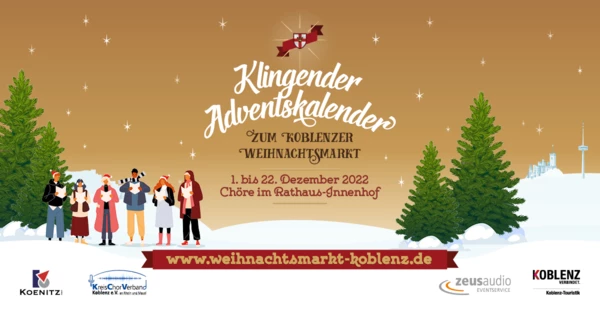 Musical Recital with Manfred Gniffke 
The popular Kowelenz Christmas stories with the Koblenz original Manfred Gniffke and his son Michael Gniffke once again invite visitors to a cosy get-together with Christmas carols and stories in dialect on the forecourt of the Liebfrauenkirche on the four Advent weekends (Saturday and Sunday, 5 p.m.).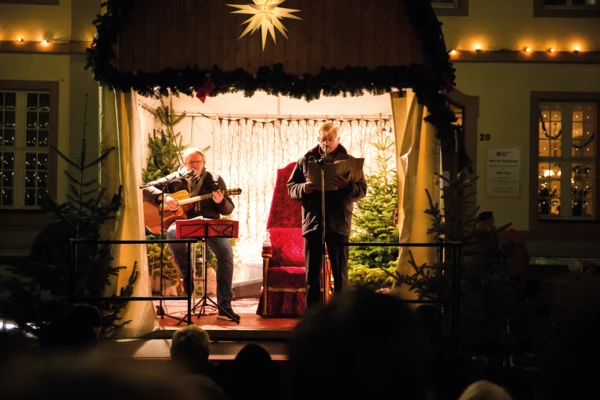 Ecumenical Advent Meditation "The Other Advent"
Every year, the ecumenical Advent meditation "Der Andere Advent" (The Other Advent) takes place in the Citykirche on Jesuitenplatz square as part of the Koblenz Christmas Market. The twenty-minute meditations invite you to pause for a moment in the middle of the city every day between 26 November and 23 December from 5:30 to 5:50 p.m. with musical accompaniment.